At the start of the year we were approached by new business communications experts Onecom to support their launch of the Samsung Galaxy S10 smartphones. This initial project demanded a turnaround of just a few weeks with much to understand, and quickly developed into an exciting partnership that over the next few months will include creation of a new and improved website, brand evolution and general support with Onecom's digital and design needs.
Onecom are the UK's largest independent B2B telecoms provider, employing over 400 staff. Onecom pride themselves on the unparalleled customer service provided at every level, cemented with a recently won 'Best Customer Service' Award at the Mobile News Awards, outperforming their competitors and industry giants to take the coveted accolade.
The project required many deliverables to a high standard and with tight timescales:
Samsung S10 pre-order landing page and email marketing.
Update of the Onecom website to bring the site to a professional standard and migrate to a new web server.
Creation of a product landing page to celebrate and inform users of the next generation Samsung Galaxy.
Galaxy S10 Pre-order Landing Page and Email Marketing
Launch of the Pre-order landing page for the Galaxy S10 was an urgent requirement due to the globally orchestrated launch of the new smartphones, and required us to take a high level of consideration of both Onecom and Samsung's brand. In a short space of time we delivered a simple yet effective landing page that offered an overview of the devices and benefits of partnering with Onecom's, utilising prominent Calls-to-Action to give users a quick and easy way to contact Onecom's sales team. The pre-order launch was supported by an email marketing campaign for which we designed and developed bespoke email templates to work within the Mailchimp platform.
Onecom Website and Homepage Redesign
Onecom's website had been, for lack of a better term, unloved over the previous couple of years. The client didn't have enough control and knowledge of the website's operation to make it fully effective for them, undergoing many incremental changes by multiple developers and content managers which added a lot of bloat to the admin system, made the website slower, insecure and difficult to edit.
As a first step in improving the website we removed excess files and plugins, and transferred the website to a new server which made the site easier to update and significantly improved its loading speed.
Alongside these changes we redesigned the homepage and made general style updates across the website to improve the readability of the website and start to impart some of the great values and mission in how Onecom work with their customers and suppliers. The homepage was redesigned to feel more open, professional and communicate what makes Onecom a great partner for businesses.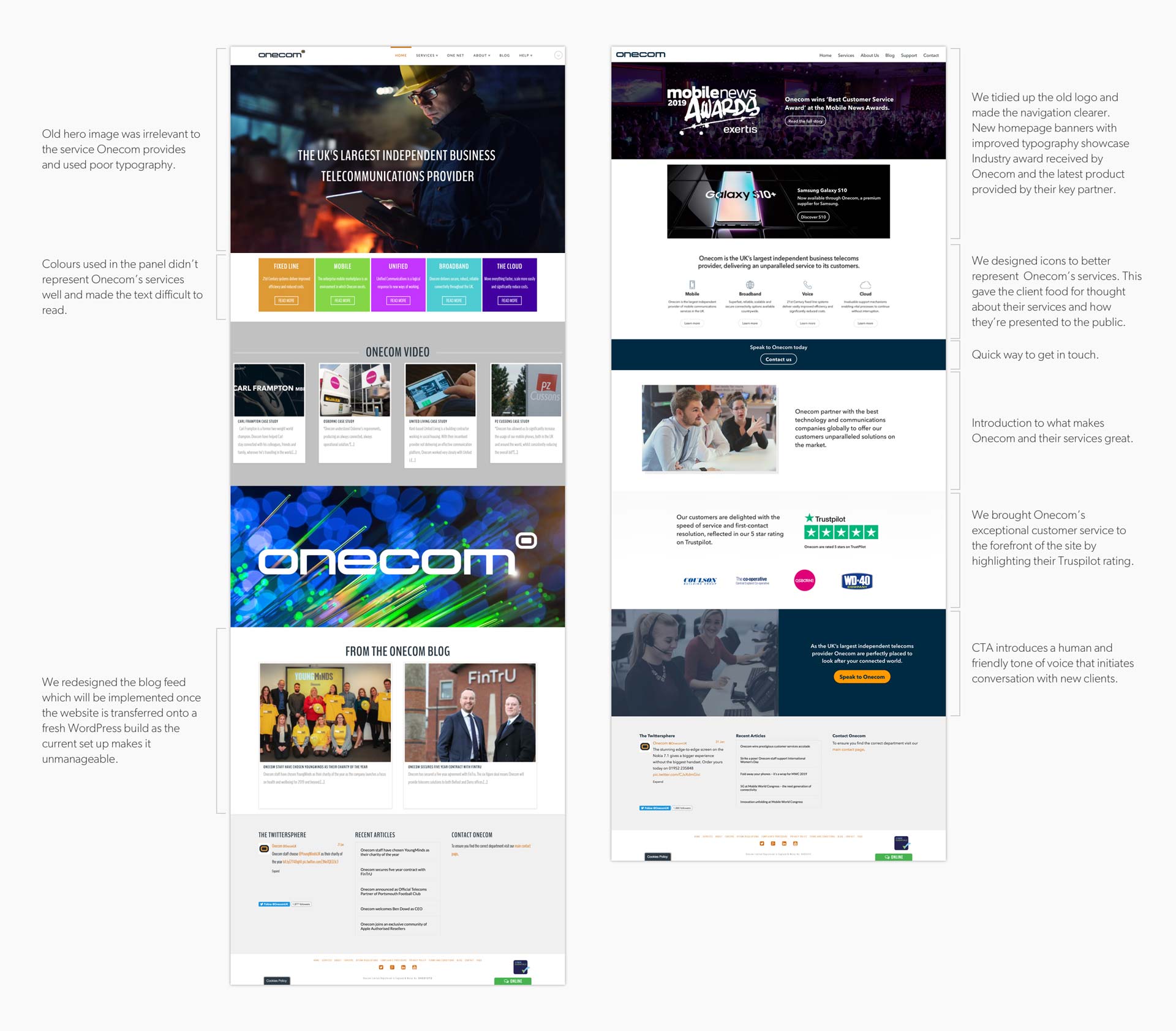 Galaxy S10 Product page
For the official launch of the Galaxy S10 range we designed and developed a WordPress powered product page that showcases the S10 range and offers insights about the most prominent features and technologies that benefit B2B clients. It allows users to learn about full product specification for all 3 devices and benefits of choosing Onecom as their telecoms provider. We hosted this page on a separate sub-domain, isolating it from the main website and ensuring the user experience was a slick and polished as the top-end devices being presented.

Future with Onecom
We're really proud of the work we have done so far and happy with how much we were able to support our client as they started to grow their marketing and digital team. Our primary focus is improving their website but as a multi-disciplinary team we are able to support Onecom with various different "quick win" projects such as homepage takeovers, print design assistance and overall digital strategy including making their site fully GDPR compliant.
We're excited to be continuing and growing our partnership with Onecom. In the near future we'll be working together on creating product pages for other key technology manufacturers such as Apple and continuing to redesign key pages of their website to make their brand and digital platform speak to their target audiences, feel modern and allow Onecom to stand proudly amongst the industry giants.